North Yorkshire schools close after heavy snow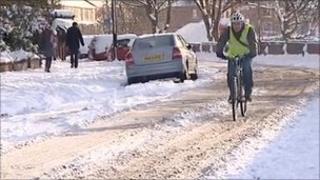 More than 100 schools across North Yorkshire have closed as the region continues to be affected by widespread snow and ice.
About 115 schools were shut on Monday, with conditions on many roads described as hazardous.
Two train services between York and London were cancelled on Monday and the Northern Rail service between Whitby and Middlesbrough was suspended.
A severe weather warning issued for Yorkshire and Humber remains in place.
Temperatures overnight on Saturday plummeted to -14C at Topcliffe, which meant it was Yorkshire's coldest November night since official records began.
Staff at the North York Moors national park reported that several vehicles which were abandoned in deep snow at the weekend had been attacked by vandals overnight.
National park spokesman Jay Marrison said: "They had every window put through and door panels ripped off. Nothing stolen, just pure mindless vandalism.
"It's just unbelievable that people can do such damage to people who are in a bad state already."
School cook stranded
Meanwhile, pupils at one school in the county which remained open on Monday were provided with a hot lunch when a local pub stepped in after the school cook was stranded by snow.
Children at Appleton Roebuck Primary School, near Tadcaster, were given cottage pie with apple pie and custard by chefs at the Sun Inn in the neighbouring village of Colton.
Head teacher Derek Angood said: "The mother of one of the children runs the Sun Inn.
"When she same this morning she said 'I heard your cook isn't in today, can we help?' and I obviously said 'yes please'."