RSPCA challenges £2m North Yorkshire farm will ruling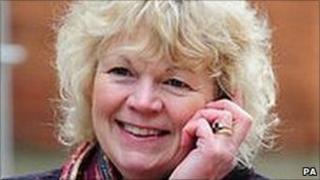 The RSPCA has challenged a ruling which overturned a will in which it was left a £2m farm estate in North Yorkshire.
Christine Gill, 59, of Northallerton, won a High Court battle last year to overturn the will, which left her parents' farm to the charity.
Judge James Allen QC found that Dr Gill's "domineering" father had coerced her mother into making the will.
On Monday, the RSPCA appealed against the findings at the Court of Appeal in London.
The case was heard by the Master of the Rolls, Lord Neuberger, sitting with Lord Justice Lloyd and Lord Justice Jackson.
Elspeth Talbot Rice QC, for the RSPCA, told the court that one of the issues for decision was whether the judge was "wrong to find that Mr Gill unduly influenced Mrs Gill into executing her will".
Father 'a bully'
Dr Gill, who is represented by counsel, is contesting the appeal.
Judge Allen said it would be "unconscionable" if Dr Gill did not inherit Potto Carr Farm, near Northallerton, where she voluntarily helped out during her spare time over a period of more than 30 years.
Mr Gill died in 1999, aged 82. It was only when her mother died in 2006, also aged 82, that Dr Gill saw the will, in which her parents had left the farm to each other and then to the RSPCA when both died.
The judge found that Dr Gill's mother had wanted her daughter to inherit the farm but Mr Gill - who he described as a "bully" - had exerted pressure over his wife to favour the RSPCA.
Monday's appeal is being closely watched by 10 other leading charities who released a joint statement saying they were "very concerned at its possible implications for the charity sector".
Law 'is clear'
The RSPCA said: "The RSPCA feels strongly that Mrs Gill's testamentary wishes were clear and the judgment in favour of Dr Gill fails to recognise that.
"It also undermines the very essence of testamentary freedom that this country enjoys.
"The Gills had already provided substantially for their daughter during their lifetime, which included a large contribution towards the purchase of the farmhouse in which she now lives.
"Whilst the charity appreciates Dr Gill's disappointment in failing to receive her mother's estate, the law in this country is clear; individuals have the testamentary freedom to leave their estate to whoever they wish."
The hearing was adjourned until Tuesday, when the judges are expected to reserve judgment.