North Yorkshire Police chief ponders staff cuts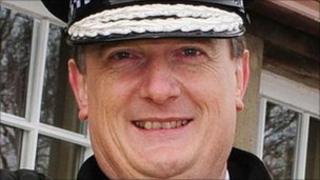 Police officers in North Yorkshire who have 30 years' service under their belts could be forced to retire under plans being considered by the county's police authority.
Some of the most experienced officers could go if the so-called Regulation A19 - allowing the force to require their retirement - is adopted.
The plan is expected to go before the Police Authority on 13 December.
The Police Federation said they were keeping an eye on the situation.
In a document released by North Yorkshire Police, figures show that if the proposal were adopted then within five years 210 officers of all ranks would have to take retirement.
'Significant savings'
In a statement, the county's chief constable, Grahame Maxwell, said he was looking at restructuring the organisation.
"In line with all public sector organisations, North Yorkshire Police has to make significant financial savings over the next four years while still delivering the best possible service to our communities," Mr Maxwell said.
"In order to meet this challenge we are looking at restructuring our organisation so that we can continue to deliver to the public within the financial constraints we face.
"This will inevitably mean that we have to do this with fewer people being employed by the organisation.
"As well as the voluntary redundancy scheme for police staff which was announced last month, we also want to consider the use of Regulation A19.
"This provides the ability to require the retirement of police officers who have accrued full pension entitlement - normally 30 years' service - on the grounds of general efficiency."
A spokesman for the Police Federation, which represents many officers, said it was early days in the matter.
He said: "We are currently considering the implications if the police authority decides to approve the use of the regulation."