North Yorkshire Police deputy guilty of misconduct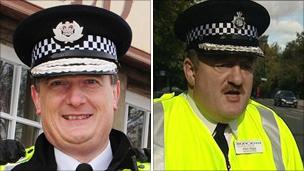 A charge of misconduct against North Yorkshire Police's deputy chief constable has been upheld.
Adam Briggs was accused of helping a relative get a job during a recruitment exercise in February.
A misconduct meeting held on Tuesday decided that Mr Briggs should receive "management advice".
Chief Constable Grahame Maxwell is also accused of helping a relative gain employment with the force and is facing a charge of gross misconduct.
The maximum punishment for gross misconduct is dismissal.
The Independent Police Complaints Commission (IPCC) said it would not publish its findings or release specific details of Mr Briggs's case until Mr Maxwell's misconduct hearing had been held.
The charges faced by both men relate to allegations of helping relatives get through the first stage of a recruitment process.
The disciplinary hearing was recommended following an investigation by the IPCC.
That inquiry started after a jobs drive was held in February, which led to about 200,000 people calling a recruitment hotline to inquire about the 60 posts which were available.
Related Internet Links
The BBC is not responsible for the content of external sites.