North Yorkshire drivers urged to take care on icy roads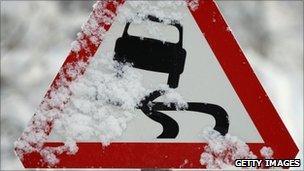 Police in North Yorkshire have warned drivers to take care after a second "Good Samaritan" in the past 10 days fell victim to the county's icy roads.
A man suffered serious injuries when he was hit by a lorry after getting out of his car to help another motorist near Northallerton on Sunday morning.
The 49-year-old is said to be in a stable condition in hospital.
On 2 December, Paul Clarkson died after being hit by a Land Rover as he tried to help a driver following a crash.
The vehicle hit Mr Clarkson, of East Appleton, near Richmond, after skidding on ice on the A6108 at Bellerby.
A North Yorkshire Police spokesman said on Sunday: "We are urging motorists to be extremely cautious when on the roads of North Yorkshire.
"This plea follows a series of collisions across the county's roads caused by the continuing wintry conditions and the second collision in just over a week when a Good Samaritan has suffered serious injuries."
The latest incident happened just off the A19 on the slip road to the A684 heading towards Northallerton.
Supt Aubrey Smith, deputy head of specialist operations at North Yorkshire Police, said: "We have seen a number of collisions on the roads of North Yorkshire this morning [Sunday] caused by dangerous and icy road conditions.
"I urge everyone travelling on the roads across North Yorkshire to be vigilant and aware of the road conditions at all times of the day, but in particular first thing in the morning."
He said unpredictable patches of black ice were forming on untreated surfaces as temperatures rose during the day but then dropped below freezing at night.
"I further advise all those who involved in collisions, and anyone who stops to help them, to keep as far from the carriageway as possible and to pay attention to other vehicles around them," he added.
Related Internet Links
The BBC is not responsible for the content of external sites.