Police authority backs compulsory retirement measure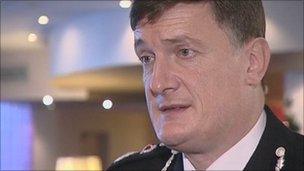 A measure which allows North Yorkshire Police to force officers with more than 30 years' service to retire has been approved by the police authority.
The authority backed the A19 regulation - which gives the chief constable the power to implement the redundancies - at a meeting on Monday.
It comes as the force seeks to cut 210 jobs over the next four years.
North Yorkshire Police Federation has questioned the effect the move would have on the force's sustainability.
Spokesman Mark Botham said they feared it could have a "massive effect".
"Since 2007 we have already lost 150 police officers," he added.
"To lose another 210 will bring us to a level lower than at any time since North Yorkshire Police has been in existence."
A North Yorkshire Police Authority spokeswoman said the measure gave the chief constable the power to force long-serving officers to retire should the number of required job cuts not be met through voluntary redundancies.
The force's chief constable, Grahame Maxwell, said employing fewer people would inevitably have an impact.
"It is across four years, roughly 50 police officers on average a year, and they will not be replaced," he said.
"It will be a very different North Yorkshire Police in four years' time from what it is today."
Related Internet Links
The BBC is not responsible for the content of external sites.