Thieves steal Pateley Bridge mayor's chain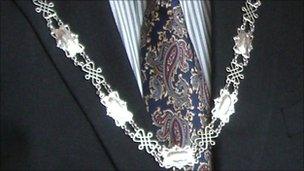 Thieves have stolen a town mayor's civic regalia from his home after reaching through a letterbox and taking the keys from the lock inside.
North Yorkshire Police said raiders gained access to the home of Pateley Bridge councillor Chris Henderson and took the mayor and mayoress's regalia.
The thieves also took a car after finding the keys in the house.
The mayor's son, Mark, was kidnapped in Colombia in 2003 and freed after an 11-month captivity.
Mayor Chris Henderson said: "The mayoral chain has been stolen so I may be disqualified from office.
"I'm not kidding, seriously, if anybody sees a couple of silver chains with beautiful silver crests discarded anywhere.
"Nobody can sell them because it says 'Pateley Bridge Town Council'."
Councillor Henderson said the town council had been in existence for about 30 years, but the chains were much older.
"The actual chain dates back to possibly 1896 when it was the Ripon and Pateley Bridge Rural District Council," he said.
Mr Henderson's son Mark had travelled to Colombia to visit a relative and was on a trek when he and the other hostages were seized at gunpoint near the 2,500-year-old Ciudad Perdida (Lost City) Indian ruins on 12 September 2003.
Their captors were members of the ELN, a revolutionary Marxist guerrilla group which has operated in the country since the 1960s.
The rebels said they kidnapped the men to publicise the persecution of Indian villagers by right wing paramilitaries, and not for a ransom.
One of the hostages managed to escape after 11 days, with two others released in November that year.
The remaining five, including Mr Henderson, were handed over to mediators in the Sierra Nevada mountains the following month.
Related Internet Links
The BBC is not responsible for the content of external sites.