Police make 12th arrest in York coma case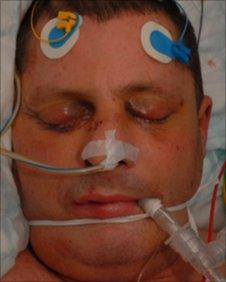 Police investigating the attempted murder of a 56-year-old man at his flat in York have arrested a 12th person and recovered a "vital piece of evidence".
Dominic Conlan was found with serious head injuries at his flat in Partington House, The Groves, on 8 January.
Police said he was no longer in a coma but remained seriously ill at Leeds Infirmary and unable to communicate.
Detectives had been trying to trace a Dell laptop stolen from Mr Conlan's flat which they have now recovered.
Over the weekend a 21-year-old man from York was arrested in connection with the incident and has since been released on bail.
He is the 12th person to be arrested in connection with the incident.
Det Insp Adrian Gathercole, of York CID, said: "We continue to make every effort to establish what happened to Dominic Conlan, who is still unable to speak to us and tell us who attacked him in his own flat.
"As a result of previous appeals we have received some good information which has led to the recovery of the laptop computer stolen from Mr Conlan's home.
"It is clear that a number of people were present at Mr Conlan's home on the night he was assaulted and that his attacker came from within that group.
"We still need to establish exactly who was responsible for inflicting his horrific injuries and I am urging anyone who has any information that can help us, to get in touch with the police as soon as possible."
Related Internet Links
The BBC is not responsible for the content of external sites.