North Yorkshire council cuts to jobs and theatre agreed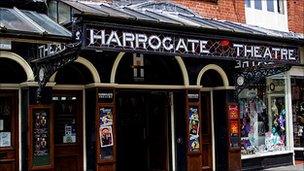 Plans to make £69m of savings that could mean 500 job losses and the closure of a theatre have been approved by North Yorkshire County Council.
Harrogate Theatre bosses say they are "extremely disappointed" the council is going ahead with plans to slash their funding by 85% from April.
The council has agreed measures to make the savings over the next four years.
Councillors said cuts would affect "all aspects" of council services, but that they had "no choice".
The Conservative-run authority has to make most of its savings - £37m out of its £930m annual budget - in the next year.
Funding for the arts was slashed, with theatres' and theatre groups' money reduced by 85% from £144,000 to £30,000.
Harrogate Theatre said it faced closure if plans to cut its funding from £63,000 to £10,000 in April were approved, and bosses petitioned the council to give them more time to fill the gap.
Kevin Jameson, deputy chief executive, said he was "extremely disappointed" the cuts had gone ahead and services would have to be reviewed.
The authority's workforce, currently totalling 24,000 people, will see about 500 jobs go.
Children and young people's services faces cuts of £8.6m from its £79m budget, while adult and community services will see its £131m budget reduced by £7m.
Roads and street lighting will be less frequently maintained.
Bus services will be reduced in evenings and weekends, which campaigners said could leave people stranded in rural areas.
School transport and music service subsidies will be reviewed.
Council tax was frozen and members agreed to reduce their mileage allowances.
Council leader John Weighell said: "I don't like any reduction in services and I don't like the effect these cutbacks will have on the county's economy, but we really have had no choice but to set this budget."
Related Internet Links
The BBC is not responsible for the content of external sites.