Fewer visit North Yorkshire attractions, survey reveals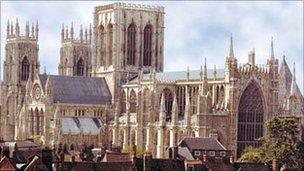 There has been a fall in the number of visitors to some attractions in North Yorkshire, a survey has revealed.
The Association of Leading Visitor Attractions (ALVA) compiled the figures for members of its organisation in the county for 2009 and 2010.
The National Railway Museum (NRM) saw the greatest reduction with 624,145 visitors in 2010 - 16% less than 2009.
Cliffords Tower was the only 'leading attraction' to see an increase with 122,000 visitors - 3% up on 2009.
Attractions are labelled 'leading tourist attractions' if they are members of the ALVA, of which there are 40 members across the country.
In a statement NRM said: "We can confirm visitor numbers at our York site are down 16% on last year's figures.
"The ALVA study shows a downwards trend for many tourist attractions across the UK, which may be a reflection of the difficult economic times."
The figures reveal that in 2010 York Minster received 512,075 visitors, 2.5% less than 2009, while Whitby Abbey attracted 117,289, 11% less than the previous year.
But nationally, ALVA reported a 0.38% increase in visitor numbers with 50% of attractions reporting a better year.
Robin Broke, Director of ALVA, said: "2009 was a particularly strong year, that was the year when we had the staycation, but you have a very strong offer in Yorkshire and I would be cautiously optimistic for you this year.
"I think we could begin to see the benefit of the royal wedding as pictures will be broadcast around the world and that will be a catalyst for people and remind them of what we have here, and the same with the Olympics."
Gary Verity from Welcome To Yorkshire said many attractions had only managed to trade for 10 months due to the adverse weather conditions which impacted the number of visitors.
"It's a mixed picture, but I wouldn't be detracted by a survey that only highlights eight of many of our great visitor attractions."
Related Internet Links
The BBC is not responsible for the content of external sites.