Head pays tribute to Tadcaster ski death student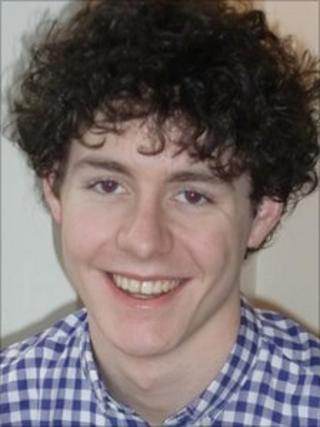 A gap year student who fell to his death jumping between chalet rooftops at a ski resort had a "huge capability" his former head teacher said.
Edward De Nunzio, 18, a trainee ski instructor, fell 16ft (4.8m) in Courchevel as he jumped between buildings on Saturday.
Mr De Nunzio, of Tadcaster, North Yorkshire, had been out with a friend.
Bootham School head Jonathan Taylor said Mr De Nunzio was "enormously talented".
His father, ex-Asda chief executive Tony De Nunzio, said the family was overwhelmed by the incident.
School statement
In a statement, Mr Taylor said Mr De Nunzio was a "young man of huge capability".
The statement added: "He was an enormously talented student, interested in everything, cheerful, humane, combining academic ability with personal charm.
"He studied geography, art, economics and biology, and was due to study geography at University College London next year.
"But beyond these, Ed was a young man of huge capability.
"He took part in school drama productions as an actor, he was an elected member of the school council, he was a delegate at the student Earth summit and he enjoyed travelling and skiing."
French police are now working to determine the exact circumstances of his death, in the early hours of Saturday.
His father, who has flown out to France, is currently a non-executive director of Boots, non-executive chairman of Pets at Home and executive chairman of Maxeda, a large retailer in the Netherlands.