Bishop pays tribute to Selby rail crash relatives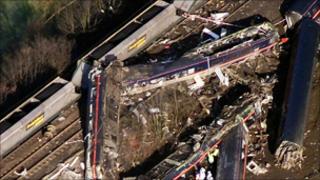 A bishop has paid tribute to the families of the 10 men who died in the Selby rail crash at a service to mark the 10th anniversary of the disaster.
Bishop of Doncaster, the Right Reverend Cyril Ashton, addressed families, survivors and emergency service staff at St Paul's Church at Hensall.
The crash saw a London-bound GNER train strike a Land Rover which had left the M62 and careered on to the track.
Motorist Gary Hart was jailed for five years for causing the deaths.
The service was held in the tiny church within earshot of the railway line and the M62 motorway.
The bishop said: "Especially today I wanted to applaud the courage of the families in seeking to come to terms with this particular tragedy.
"One noted the courage of the families even in their loss and distress showing genuine deep courage."
He also paid tribute to "the generosity of this local community which took the folk involved in the crash into their hearts and their homes".
"Today is time to bring healing to the past," the bishop added.
'Sign of hope'
In the crash in 2001, the GNER train was derailed after striking Hart's Land Rover and was then hit by a Freightliner coal train.
Hart had been unable to move his vehicle off the tracks and was calling the emergency services when the crash happened.
He had had little sleep the night before and was later found guilty of 10 charges of causing death by dangerous driving.
Hart was sentenced to five years in jail and served about half that time.
During the service in the remote church, 10 candles were lit in remembrance of those who died.
There was a tribute from Ann Edgar, the former customer service director of GNER, and Jonathan Metcalfe, the former GNER chief operating officer, who sent a message to the service from Australia.
During the service, the bishop said now was the time to reflect on the past but also move on with "renewed personal hope".
He pointed to 19-year-old James Dunn - the son of the Freightliner driver who died, Steve Dunn - who had become a train driver himself.
The bishop said: "He is a sign, it seems to me, of real hope."
Earlier, James and his brother Andrew, 22, paid tribute to their father.
They said Mr Dunn, who was 39 when he was killed, had "died doing the job he considered a paid hobby".
In a statement also signed by Mr Dunn's widow, Mary, the family said they had "made an effort to rebuild our lives" since the crash.
After the ceremony at the church, the families and rail staff moved to a private service in the memorial garden close to the trackside at Great Heck.