Film star Robert Redford in Thorganby village pub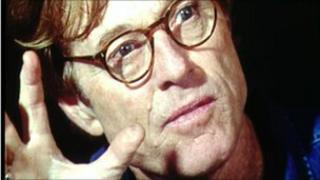 A group of allotment holders who arrived for a meeting in a North Yorkshire pub found a Hollywood star sitting in a corner with friends.
Members of the Wheldrake Allotment Society were amazed to stumble across actor Robert Redford in the Ferry Boat Inn at Thorganby, east of York.
The landlady, Olive Rogers, confirmed Mr Redford had been in the pub on Sunday night.
Society chairman Chris Thackray said one of his group got an autograph.
Mr Thackray said the star of Butch Cassidy and the Sundance Kid was with a group of people who "kept themselves to themselves."
Mr Redford is in the UK to promote the four-day Sundance London film festival to be staged in the capital next year.
Mr Thackray said the star was already at the pub when his group gathered for the meeting.
'All very British'
He said: "He was sat in the corner and I spotted him straight away.
"My only worry about whether it was actually him was 'does he have an American accent?'
"But there was no question about it.
"Nobody bothered him while he was in the pub, it was all very British and we left him alone."
Mr Thackray said a member of his group went to speak to Mr Redford as he left the Ferry Boat Inn and got an autograph.
"Everyone in the pub recognised him and left him alone - if it had been Hollywood he would have been mobbed."