North Yorkshire hip hop band launch new single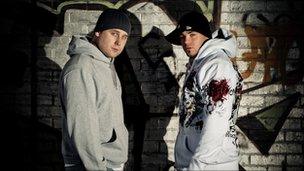 Sam Hartland and Dan Gilbank from Northallerton hope the release of their first single will help them become better known.
The 26-year-olds have been performing together, as hip hop band TGM, for 5 years.
After gaining a popular following, through live internet performances, they've now been picked up by an American record label.
Their first single, "Rock with you", is being distributed by Island Def Jam.
Dan and Sam grew up together and both say they'd always been into hip hop, but it was a few years before they started to create music together.
Dan explained: "It wasn't until we started going to live shows that we realised that this was something we could do and it was something we thought we could do better than some of the people we were watching."
They create their music in a spare room at Dan's house. "My parents have been really supportive since I first started getting into the music at around 15 or 16," he said.
The duo take their inspiration from their own lives and Sam said : "It starts off with the beat but it is always trial and error. You always have an idea in your mind what kind of track you want to make though."
Their music, although hard-hitting, doesn't concentrate on the subjects often associated with hip hop as Sam explained: "We don't talk about the stuff like guns and drugs. We try and keep it real and talk about stuff that happens to us."
Dan and Sam say North Yorkshire might not be the first place people would associate hip hop with.
"It has been difficult with us coming from such a small town. It is totally isolated, that's the problem with hip hop in northern England you have to go to big cities like Leeds and Manchester," they said.
Their first single is being distributed by Island Def Jam and TGM hope reaching a wider audience will guarantee their future success.
Related Internet Links
The BBC is not responsible for the content of external sites.