Melsonby shopkeeper denies killing wife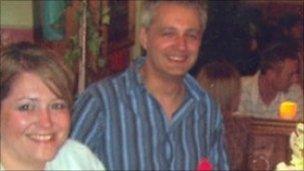 A man on trial for his wife's murder told a jury he found her body after an armed robber raided their shop and warned "we've got your wife".
Robin Garbutt, 45, has denied claims that he murdered his unfaithful wife Diana as she slept above the shop in Melsonby, North Yorkshire, last March.
The prosecution at Teesside Crown Court alleges Mr Garbutt made up the armed robber to cover his tracks.
Mr Garbutt told the court he would never hurt her.
Jamie Hill QC, defending, opened the defence by asking: "Mr Garbutt, did you kill your wife?"
The softly spoken defendant said: "No, I would never hurt Di."
Mr Garbutt described a 6ft robber with a black handgun telling him "don't do anything daft, we've got your wife".
He said he put cash from the safe in a holdall during the raid, which he claimed took "no more than 20 seconds".
He added: "It was very quick. It was unbelievable."
Mr Garbutt told the court he went upstairs when the robber fled and found his wife motionless on the bed.
He wept as he said: "I knew something was terribly wrong."
The jury has heard that Mr Garbutt challenged a paramedic who arrived on the scene when he said rigor mortis had set in.
"Nobody likes to hear their wife's dead," he said. "I thought that meant she was definitely dead."
The court has heard Mrs Garbutt had become involved with three men, becoming "intimate" on the sofa with one, sharing sexual banter on Facebook with another and apparently kissing a third - her cousin's husband.
Mr Garbutt told the court: "Di had a larger sex drive than myself.
"When you work in a shop, you get up at 4.30, you are tired.
"I know it's a poor excuse but you do tend to be tired."
The defendant said he became "upset" when his wife confessed to him she had shared a kiss with a man on the settee.
He added: "I think Di was more upset than me," and said they had worked on their problem.
Mr Garbutt said he did not know about his wife flirting on Facebook with a local man.
He said: "I think if you know Di, her sense of humour is quite cheeky.
"I wouldn't put a lot of emphasis on it."
Mrs Garbutt denied relatives' claims that she kissed her cousin's husband, the defendant told the court.
He became emotional when he said: "We had the best relationship.
"I thought we were a loving couple and I miss her terribly."
He said he grew up near York and was managing director for a family business when he met his future wife.
She worked for Group 4 as a security officer in magistrates and crown courts.
He said they decided to buy the post office so they could spend more time together.
The jury heard the couple had £30,000 in credit card debts.
The shop turned over more than £200,000 in 2009-10, the court was told.
Mr Garbutt said the couple made a gross profit of £40-45,000, out of which they paid bills, the mortgage and some food.
The court has heard the net profit was about £4,000.
"I would say we were doing OK," he told the jury.
The case was adjourned until Monday, when the defendant will be cross-examined.
Related Internet Links
The BBC is not responsible for the content of external sites.