Protest in York over cuts for disability services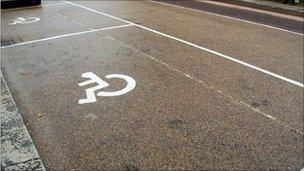 Disability campaigners are staging a protest outside City of York Council in opposition to funding cuts.
They are asking the council to pressure local MPs to challenge cuts in Parliament that affect disabled people.
These include a reduction in York's "supporting people" budget, which helps people to live independently.
York Council says it "can deliver the savings with minimum impact on the quality and level of services".
The protest follows a 1,400-signature petition delivered to the council budget meeting in February.
Campaigners highlighted the 48% cut in the Communities and Local Government Department's allocation to York for the "supporting people" programme.
However, the council said it had been able to take advantage of new flexibilities to limit the overall reduction in expenditure on the programme to 10.4%.
Ceri Owen, a mental health campaigner, said councils have a duty to "support people with ongoing care needs to be part of our community and to live as independently as possible."
"I've already seen friends go into hospital because their support has been cut," she said.
Related Internet Links
The BBC is not responsible for the content of external sites.