York St John University sets 2012 fees at £8,500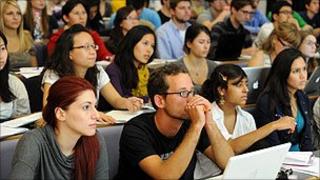 York St John University has announced it intends to set its annual tuition fees at £8,500 - just £500 below the maximum - from next year.
The university, located near York Minster, has 6,000 students studying courses in arts, health and life sciences, education and theology.
It said its proposals for 2012 included "a comprehensive package of fee waivers, bursaries and scholarships".
The proposals are subject to approval by the Office for Fair Access.
A York St John spokesman said the university had "an established profile for attracting and retaining applicants from a wide range of backgrounds".
"To support this commitment to widening access, the university has developed a range of fee waivers, bursaries, scholarships, outreach and retention activities to ensure that students will continue to benefit from the experience of coming to York St John regardless of financial circumstances," he added.
Vice chancellor Professor David Fleming said: "Students are at the heart of all we do and we are passionate about providing them with an exceptional experience both now and in the future.
"This principle has guided our development of the fee proposals and is informed by the current economic and funding context."
Students with a family income below £10,000 will pay £2,000 a year less; a family on an income of £10,000-£19,999 will pay £1,250 less and those earning £20,000-£30,000 will pay £750 less.
Meanwhile, the University of York said it did not plan to reveal its proposed fees until June.