North Yorkshire marks the royal wedding with 60 parties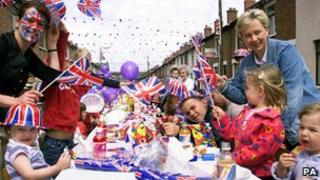 More than 60 street parties celebrating the royal wedding will be held in North Yorkshire.
Councils are closing 63 roads to allow communities to hold events marking the marriage of Prince William and Kate Middleton on Friday.
Parties range from small events in residential side streets to celebrations involving entire villages.
22 roads will be closed in Scarborough, 11 in York and a further 30 elsewhere in the county.
Jan Johnson is one of four people organising celebrations at Harlow Oval in Harrogate.
More than 200 people are attending and Ms Johnson said she hoped the event would help people get to know their neighbours better.
She said: "One of the first people to contact me to ask if they could come along was a 102-year-old woman. No-one knew that we had a neighbour of that age who was still living in her own home."
Gilly Benson, who is organising celebrations at Spring Grove in Harrogate, said: "We started off with just five houses wanting to get involved but now we've got more than 120 people coming along."