UK Snooker Championship 'to boost York economy'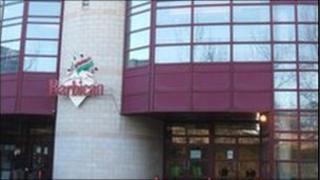 The UK Snooker Championship's return to York could boost the city's economy by £7.5m, it has been claimed.
The event, which has a global audience of up to 500 million, will be staged in the newly-refurbished Barbican Centre this December.
SMG Europe Limited, which runs the venue, said the deal could bring in millions of pounds to the city.
The championship, which carries prize money of £625,000, was staged in York from 2001 until 2006.
The Barbican complex won the right to host the event in 2001 but it was moved to Telford in Shropshire after the York venue closed five years ago.
'Atmospheric moments'
SMG Europe Limited have invested £2m in the centre.
Steve Exley, finance and commerical director with the company, said it had worked hard to bring the championships back to York.
Mr Exley said the financial benefits for the city would be considerable.
He said: "On average each person that comes to York for this event will spend around £60 and we are assuming we will have an average attendance of 1,000 people for each of the 124 sessions. We estimate it could generate almost £7.5 million.
"That is a conservative estimate as it doesn't include additional spending in hotels and restaurants."
The chairman of World Snooker, Barry Hearn, said his job had been to find a venue that would lead to "atmospheric sporting moments".
"They've produced a world-class facility in York and now deserve to have a major snooker event," he added.
The UK Snooker Championship takes place between 3 and 11 December.