World War II memorial campaigner from Selby dies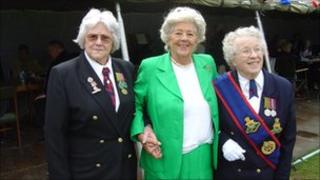 A woman from North Yorkshire who campaigned for a national memorial to the women of World War II has died at the age of 87.
Wartime Royal Artillery gunner Edna Storr, from Selby, spent seven years raising money for the £1m memorial close to the cenotaph in London.
The bronze statue was unveiled by the Queen in 2005.
Mrs Storr died in York Hospital on Sunday. Her funeral will be held at Selby Abbey on 10 May.
Mrs Storr was 17 when she volunteered for the army and went on to join 460 Heavy Ack Ack Battery, Royal Artillery Regiment.
She later gained national recognition when, along with former army gunner Mildred Veal, from Clifton, York, and with help from Maj David Robertson, of Imphal Barracks, York, they started a campaign for a memorial to women of the war.
Her son Phil Storr said: "Originally there was only supposed to be a plaque in York Minster.
"But in the late 1990s, with the support of both the national and local media, two local MPs, the former Speaker of the House of Commons, Betty Boothroyd and force's sweetheart Dame Vera Lynn, fundraising commenced in earnest to get a bigger statue."