Hunmanby Gap evacuated after 'white granules' washed up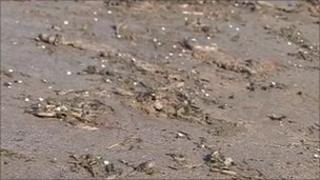 A three-mile stretch of beach has been evacuated in North Yorkshire after "white granules" were washed up.
Police were alerted by the coastguard to Hunmanby Gap near Filey at about 1345 BST.
North Yorkshire Police said the items were "white granules of an unknown nature".
The beach has been evacuated and cordoned off as a precaution while the granules and any potential health risk are identified.
The Health Protection Agency, Environment Agency and Scarborough Borough Council are all involved in the on-going incident.