Thirsk waste firm fire investigation due to start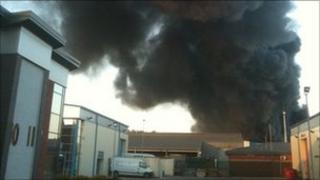 An investigation is due to begin following a fire at a waste management depot in North Yorkshire.
More than 60 firefighters tackled the blaze at the Todd Waste Management site on Thirsk Industrial Park on Tuesday evening.
North Yorkshire Police said the fire involved business and domestic waste and was not toxic.
The cause of the fire, involving three buildings, is not yet known, North Yorkshire Fire and Rescue Service said.
At its height, the fire forced some businesses to be evacuated from their premises and eyewitnesses said smoke could be seen in Harrogate, 25 miles (40km) away.
Richard Todd, managing director of FD Todd & Sons, said no staff were on site when the fire broke out.
He said: "Whilst the fire has been significant, we are very relieved that no-one was on site and there have been no injuries.
"Our staff reported for work as normal this morning and will continue to be fully deployed managing the business from our other sites in Malton and York."