Chief Constable Grahame Maxwell admits misconduct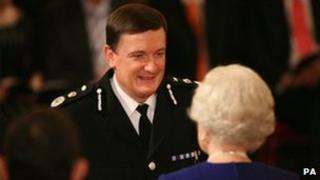 North Yorkshire Police's Chief Constable has admitted disreputable conduct, the BBC has learned.
It follows allegations that Grahame Maxwell helped a relative gain unfair advantage in a police recruitment campaign.
A disciplinary tribunal is expected to meet later to decide whether Mr Maxwell should be sacked.
He is thought to be the first chief constable to face gross misconduct charges in more than 30 years.
Recruitment drive
The Independent Police Complaints Commission (IPCC) said it would not comment until the process was complete.
Last year, the IPCC led an investigation into a recruitment drive at North Yorkshire Police.
A hotline for applicants had been inundated with 200,000 calls and it was alleged that Mr Maxwell and other individuals working at the force had helped relatives bypass procedures.
A misconduct charge was upheld against Mr Maxwell's deputy, Adam Briggs. He has since retired.
Two civilian staff were sacked and a police constable was given a final written warning.
The last stage in the disciplinary process is expected to take place on Tuesday when an independent panel will decide what action should be taken against Mr Maxwell.
He has admitted disreputable conduct, in effect gross misconduct.
The penalties include a fine, suspension and dismissal.
BBC Home Affairs correspondent Danny Shaw said the last time a chief constable was sacked was thought to be in 1977, when Stanley Parr was forced out of Lancashire Police.