Call for Chief Constable Grahame Maxwell to step down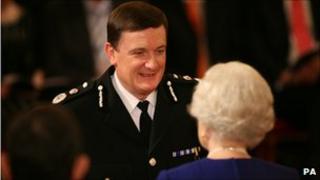 The MP for Skipton and Ripon has called for the immediate resignation of North Yorkshire Police's chief constable.
Chief Constable Grahame Maxwell was given a final written warning after admitting disreputable conduct in a hearing on Tuesday.
Tory MP Julian Smith said the current situation was "not acceptable" and called for Mr Maxwell to step down.
A hearing found Mr Maxwell had assisted a relative in a police recruitment drive.
Mr Smith said: "Public life, I believe is about trust, and no more so than if you are leading a police force.
"It is looking after the interests of my constituents and thousands of other people across North Yorkshire. Having admitted that very grave issue, I believe he has to go."
'Undermined public confidence'
The police authority and Independent Police Complaints Commission (IPCC) were involved in Mr Maxwell's hearing.
Lawyers for Mr Maxwell confirmed he had received a final written warning to remain in force for 18 months and "accepts that his conduct has been discreditable to the force and amounts to gross misconduct".
A statement issued by the legal team said he had "admitted an allegation that he had breached professional standards and thereby brought discredit upon and undermined public confidence in the police service".
The disciplinary panel met in secret, and Mr Smith has questioned why the hearing was held behind closed doors.
The police campaign hit the headlines when more than 200,000 people tried to get through to apply for 60 jobs last year.
'Set standards'
Mr Maxwell was filmed manning the phone lines himself but the volume of calls caused the phone system to crash and many potential applicants complained they could not get through.
He became North Yorkshire's chief constable in 2007, joining from South Yorkshire Police, where he had been a deputy since 2005.
He is thought to be the first chief constable to have faced gross misconduct charges in more than 30 years.
The IPCC said Mr Maxwell admitted assisting a member of his extended family and also a relative of his Deputy Chief Constable, Adam Briggs.
Mr Briggs was found at a hearing in December to have helped a relative get a job during the recruitment exercise when he received "management advice".
IPCC Commissioner Nicholas Long said: "The Chief Constable and his deputy are the two most senior officers in the force and are supposed to lead by example and set the standards for others to follow."