Chief constable remains despite calls for resignation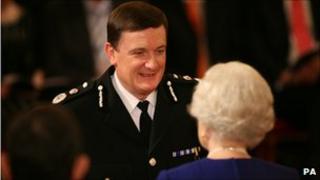 North Yorkshire Police's Chief Constable has apologised and said his role is "business as usual" following calls for him to step down.
Chief Constable Grahame Maxwell admitted gross misconduct for assisting a relative in a recruitment drive.
MP for Skipton and Ripon, Julian Smith, had called for Mr Maxwell to resign and said the current situation was "not acceptable."
A written warning was issued to Mr Maxwell by a disciplinary panel.
The police authority and the Independent Police Complaints Commission (IPCC) were involved in Mr Maxwell's hearing.
During a recruitment drive, Mr Maxwell assisted a relative through the first stages of the process, the hearing heard.
'Sincere apology'
In a personal statement, Mr Maxwell said: "I would like to reaffirm my deep and sincere apology to the residents of North Yorkshire, my officers and my police staff.
"The last thing in the world I would want to do is undermine the reputation of North Yorkshire Police.
"I want to reassure the public of North Yorkshire and the City of York that it is very much business as usual.
"My role now, is to continue to lead North Yorkshire Police and work with the members of the Police Authority to continue our good work and deliver the best possible policing service we can to the communities of North Yorkshire."
A former chief constable at North Yorkshire Police has said it would have been wrong for the panel to dismiss Mr Maxwell.
'Set standards'
David Kenworthy said: "The force at the minute has no deputy chief constable, are you now going to deprive it of a chief constable and leave it completely rudderless with all the changes that are coming up?
"The answer is no, it would be foolish to do so."
The North Yorkshire Police Federation which represents current rank-and-file officers has also voiced its support.
The IPCC said Mr Maxwell admitted assisting a member of his extended family and also a relative of his Deputy Chief Constable, Adam Briggs.
Mr Briggs was found at a hearing in December to have helped a relative get a job during the recruitment exercise when he received "management advice".
IPCC Commissioner Nicholas Long said: "The Chief Constable and his deputy are the two most senior officers in the force and are supposed to lead by example and set the standards for others to follow."