Great Yorkshire Show need more 'model' farmers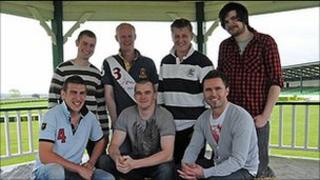 The Yorkshire Agricultural Society needs more men to take part in a special competition at the Great Yorkshire Show.
Country Catwalk Stars replaces a men-only model competition held in 2009.
Although plenty of women have applied to take part in the event organisers said they would like more men.
A winner is chosen during a series of fashion events at the annual agricultural show in Harrogate in July.
In 2009 the Yorkshire Agricultural Society held a Model Young Farmer competition featuring men from across the north of England.
It was won by Jimmy Atkinson from Weardale in County Durham.
The 27-year-old, who still helps at weekends on his parent's farm, said: "Being part of the Great Yorkshire Show was fantastic for me and although I've not pursued a career in modelling, I enjoyed every minute of taking part."
This year the society decided to create a new competition that would also include women.
Judy Thompson, from the Yorkshire Agricultural Society, said: "It is too soon to talk about numbers of entrants as we are still receiving applications but it does seem that we are struggling a bit on the male side of things."
"It is great fun and we do have some training sessions for the chaps so they will know how to make the best of themselves on the catwalk," she added.
As well as sharing prize money of £500, the winners will be offered an introduction to modelling with a local agency.
The Great Yorkshire Show takes place between 12 and 14 July.