North Yorkshire areas hoping for enterprise zone status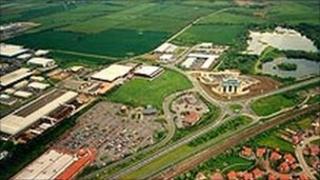 Four areas in North Yorkshire are hoping to be shortlisted for a government scheme which offers tax breaks to attract new business.
Plans to establish 21 Local Enterprise Zones were announced in the 2011 budget.
The zones would offer reduced business rates and simplified planning rules.
Selby, Scarborough and two parts of York will submit bids to the York & North Yorkshire Local Enterprise Partnership by 3 June.
The four areas planning to apply in North Yorkshire are Scarborough Business Park, the Selby Bypass site, York Central and York Heslington East.
To succeed an area has to prove that it can move quickly to establish a zone and prove that it needs special conditions to attract and grow new business.
'Not guaranteed'
The final decision on creating an enterprise zone rests with the Department for Communities and Local Government.
Barry Dodd, chair of the York & North Yorkshire Local Enterprise Partnership, said: "We're not guaranteed to get an enterprise zone no matter what bid we put in.
"We have to show we have an area of deprivation and we need these special benefits but we have to try."
Mr Dodd said they would be working closely with all four areas to ensure they had the best chance of success.
"We want to succeed here and we will try everything we can to help someone succeed. We will be trying to maximise each bidders full potential."
The government is expected to announce the next round of successful bids in late summer.