York transport revamp 'vital for prosperity'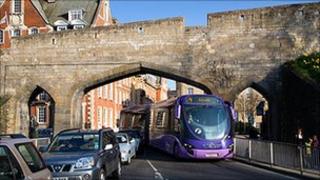 A complete rethink of York's transport policy is key to its economic success and encouraging businesses, according to the incoming council leader.
James Alexander, who at 29 is one of the youngest council leaders in England, said his priorities were jobs and growth.
The Labour administration will formally take over on Thursday.
They secured 26 seats out of 47 seats including former Liberal Democrat leader Andrew Waller's Westfield ward.
The city had previously been run by a minority Lib Dem administration.
Mr Alexander said: "It's important that we have jobs and growth in York,
"But it's about how we manage and create an economic environment for growth.
"We need businesses to grow and we need businesses to relocate here - and we're not going to do that with the current setup and congestion we've got and with transport."
Cross-ticketing
Mr Alexander said that businesses had cited congestion on the city's road as the biggest barrier to growth.
He added: "What we do want is the regulation of bus services and that is quite expensive, but that would give us the same powers over the buses they have in London.
"We could have a proper integrated transport system and we could have cross-ticketing of services and regulate the price increases.
"The way we would pay for this is the possible localisation of business rates that the government is talking about.
"We think that the money spent on that would help the local economy and ease congestion and get our workforce to work."
The Lib Dems, previously the council's biggest party, suffered an 11-seat loss with Labour gaining eight seats.