North Yorkshire police chief misconduct affects morale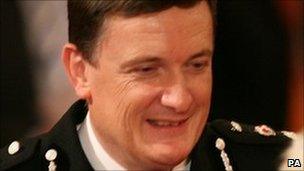 The chairman of the North Yorkshire Police Federation has said spending cuts and the misconduct of its chief constable had affected officer morale.
Grahame Maxwell was given a final written warning after he helped a relative in a recruitment drive.
Chairman of the federation Mark Botham said a survey showed members felt morale was low.
He said this was due to public spending cuts, rising crime rates and Mr Maxwell's misconduct.
The chief constable has faced calls for him to step down since admitting gross misconduct at a hearing earlier this month.
The police authority and the Independent Police Complaints Commission were involved in Mr Maxwell's hearing, which was told that during a recruitment drive he assisted a relative through the first stages of the process.
A police federation survey showed 99% of members felt government cuts of 20% over the next four years would result in poor public service and increased crime.
Mr Botham said: "Morale has fallen since the cuts and obviously the Maxwell saga has not assisted with that."
He said the response from officers about what had happened with the chief constable had varied.
"It varies from people that are angry and question his credibility to those who think he's been through a due process of law and dealt with accordingly."
Jane Kenyon, chairwoman of North Yorkshire Police Authority, said Mr Maxwell's reputation had been tarnished but that the authority supported him.
She said: "Every member was given the opportunity to stare him in the whites of his eyes.
"He apologised to all of us... the police authority accepted his apology and we'll support him in rebuilding his reputation which this issue has clearly tarnished."
In a personal statement previously issued by Mr Maxwell, he said: "I would like to reaffirm my deep and sincere apology to the residents of North Yorkshire, my officers and my police staff.
"I want to reassure the public of North Yorkshire and the city of York that it is very much business as usual."
Related Internet Links
The BBC is not responsible for the content of external sites.