Staithes beach fails water quality standards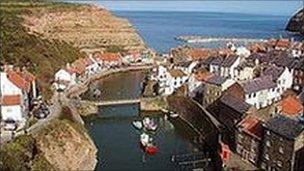 A beach in North Yorkshire has failed a water quality test for the 19th time in 23 years.
The beach at Staithes did not meet any of the bathing water standards set by the Marine Conservation Society (MCS) for the Good Beach Guide.
In 2010 it received a basic pass, but fell below standards under the EU's Bathing Water Directive rules in 2011.
MCS rated six beaches in North Yorkshire as having excellent water quality.
Staithes is thought to be affected by farm sewage draining into the harbour and diluted sewage from overflows during storms.
Rachel Wyatt, from the MCS said: "Staithes has failed for a couple of years so that shows that bacteria has been found in quite high levels there.
"We're maybe talking about ear, nose and throat infections things like that."
She added that standards for water quality were due to rise again by 2015.
Ms Wyatt said: "If it's still failing these stricter standards which come into play from 2015 there will be signs up on beaches saying that the water quality there is poor.
"If it was to continue to fail for several years, permanent advice against bathing would be placed at that beach, but hopefully we wont get to that stage and improvements can be made before then."
In North Yorkshire, Reighton, Filey, Cayton Bay, North Bay in Scarborough, Whitby and Sandsend were all recommended as having excellent water quality.
South Bay in Scarborough, Robin Hoods Bay and Runswick Bay received basic passes.
The MCS said 461 UK beaches were recommended as having excellent bathing water quality, while 46 beaches failed to meet standards.
Related Internet Links
The BBC is not responsible for the content of external sites.