Labour's James Alexander sworn in as York Council leader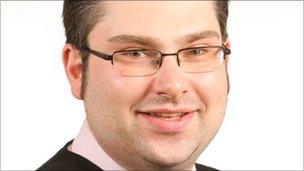 The new Labour leader of York City Council has been sworn in after the Liberal Democrats suffered an 11-seat loss in the local council elections.
At 29, James Alexander is believed to be the youngest council leader in the country.
He has already pledged to reverse £1m worth of cuts agreed by the previous administration.
Mr Alexander said: "It allows me now to be able to put into action the criticisms I had in opposition."
At the elections on 5 May, the Labour group secured 26 of the 47 seats including former leader Andrew Waller's Westfield ward.
Eight councillors now make up the authority's new cabinet.
These are councillors James Alexander, Tracey Simpson-Laing, Dave Merrett, Sonja Crisp, Ruth Potter, Sandy Fraser, Julie Gunnell and Janet Looker.
Councillor Ian Gillies leads the Conservative group.
The Liberal Democrats have appointed Councillor Carol Runciman as leader and Councillor Andy D'Agorne leads the Green Party.
Related Internet Links
The BBC is not responsible for the content of external sites.