York museum in National Lottery Awards vote appeal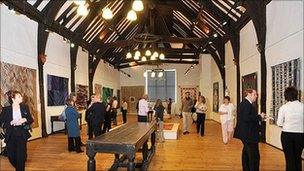 A York museum is hoping to be voted into the finals of a national award.
The Quilt Museum and Gallery has been short-listed for the semi-finals of the National Lottery Awards for best heritage project.
The awards highlight how lottery funding is used in local communities across the UK, with the public voting on the winners.
Voting for the semi-finals starts at 0900 BST on 31 May and ends at 1200 BST on 20 June.
The Quilt Museum and Gallery, which opened in 2008, houses a collection belonging to the Quilters' Guild of the British Isles.
The museum has so far received £193,500 of funding from the Heritage Lottery Fund to help pay for an ongoing project - Unfolding the Quilts.
The project has enabled the museum to employ a full-time education officer and part-time volunteer organiser and offer an extensive volunteer programme, recruiting and training up to 80 people at a time.
The volunteers, who come from a variety of backgrounds, help out through stewarding and assisting with exhibition changeovers, education workshops, conservation, displays and administration.
Liz Whitehouse, chief executive of the Quilters' Guild of the British Isles, said: "The volunteers benefit in many ways. They learn about the collection, can practice their sewing skills and make new friends."
The winning project in each of the categories will receive national recognition at an event later this year, broadcast on BBC One, as well as £2,000 to spend on their project.
There are seven categories in the awards, each reflecting the main areas of lottery funding: Arts, sport, heritage, health, environment, education and voluntary/charity.
The three projects with the most votes in each category will go through to the final round of public voting.
Related Internet Links
The BBC is not responsible for the content of external sites.