Military planes in 'near-miss' over Linton-on-Ouse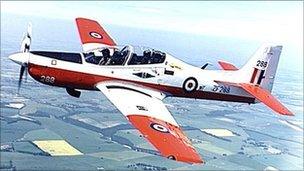 Three military planes came close to colliding in North Yorkshire, an independent report has revealed.
A Tucano and two Royal Navy hawk aircraft were coming into land at RAF Linton-on-Ouse when they were involved in a near-miss last October.
Investigators concluded that the aircraft would have collided had the pilots not taken avoiding action.
The report recommended changes to communication procedures between the control tower and visiting aircraft.
The details have emerged in a report from the UK Airprox Board, which is funded by the Civil Aviation Authority (CAA) and the Ministry of Defence (MoD) and investigates near misses.
It said the Hawk pilots "flew into conflict" with with the Tucano, an RAF training aircraft, "which they did not see".
The Tucano student pilot was flying solo on 7 October to RAF Linton-on-Ouse when the aircraft came within 70 metres (239 ft) of each other.
The report said that although pilots were "ultimately responsible for collision avoidance.. neither flights was provided with relevant traffic information that was available to the various controllers".
It stated that despite having asked for information on other traffic to affect them, the Hawks were told there was no "radar traffic".
This the report said, "misled the Hawk crews into believing there was no traffic to affect them when in reality the Tucano was potentially and later actually in conflict".
Poor weather made it difficult to see from the pilots' perspective, the report added.
Related Internet Links
The BBC is not responsible for the content of external sites.