'Turn down' hope for Copmanthorpe wind mast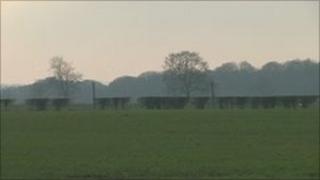 Campaigners opposed to a wind monitoring mast being put in a village near York say they are confident the application will be rejected.
Banks Renewables wants to put up a 70m (229ft) test mast at Copmanthorpe where it plans five wind turbines.
Opponents say the site will destroy the rural landscape, but the company says it is an unobtrusive structure.
City of York Council officers agree it will have little impact and recommend approval despite 500 objection letters.
The temporary monitoring mast would enable Bank Renewables to assess wind speeds in the area where it wants to erect five turbines with a maximum height of 145m (475ft).
The company says the proposed wind farm, on agricultural land, could produce enough renewable energy to power about 8,300 homes annually.
'Suitable' location
Mark Dowdall, environment and community director at Banks Group, said it hoped the planning committee would follow the recommendation of its officers and approve the application.
"The test mast is an unobtrusive, temporary structure that would be sited in what we believe is an entirely suitable location," he added.
A full application for the wind farm is not likely to be submitted until the end of 2012.
Opponents of the plans say they remain confident councillors will listen to their concerns over the location of the mast and the impact it would have on their rural views.
Tim Duffy, who chairs Copmanthorpe Wind Farm Action Group, said: "I feel very strongly that we will get a good result.
"The arguments we plan to put forward will hopefully sway the opinions of those making this decision."
He added that the group would be demonstrating outside York Guildhall as city councillors meet to consider the application later.