Orange Order marches through streets of York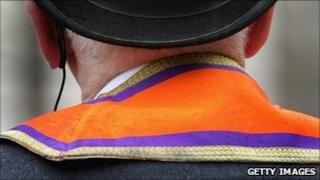 A march by the Orange Order has taken place in York for the first time.
The group said it was parading through York because it has lodges nearby.
More than 100 members set off at 1400 BST from the city's Clifford's Tower.
North Yorkshire Police were in attendance at the march and said it passed off peacefully.
The Grand Master of the Orange Order in York, Ron Bather, said: "There's no ulterior motive for choosing York. It's not as if we are going out of our way to be antagonistic.
"That's not what the Orange Order is about. It's just a way of going to York and showing people what the Orange institution is all about."