Royal couple to visit 2011 Great Yorkshire Show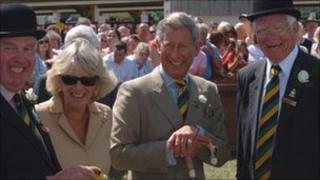 The Prince of Wales and the Duchess of Cornwall are to visit the Great Yorkshire Show this year.
The Great Yorkshire Show is held annually over three days in July and is one of the largest agricultural shows in the country.
Prince Charles is patron of the Yorkshire Agricultural Society, which organises the event in Harrogate.
Recent royal visitors include the Princess Royal in 2010 and The Queen and the Duke of Edinburgh in 2008.
The honorary show director, Bill Cowling, said he was delighted the couple would be attending the show on 13 July.
He said: "Their knowledge and enthusiasm for farming and rural life is well known and their visit will make the show particularly special."
The show, this year being held between 12 and 14 July, attracts more than 100,000 visitors each year.
The royal couple last attended the show in 2006.