Ex-Underground train plan for Harrogate line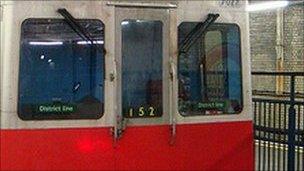 Business leaders in a North Yorkshire town believe they have found a solution to the limited rail services between Leeds, York and Harrogate, by using former London Underground trains.
Plans are being drafted to utilise the so-called "sub-surface" electric trains to ease a lack of capacity on the route.
The scheme, if successful, could be running by 2014.
The plan is backed by Harrogate Chamber of Trade and Commerce.
It envisages using trains that are ex-District Line trains - commonly referred to as 'sub-surface lines' carriages.
The trains have one owner, London Underground, and their engineers gave them a serious overhaul five years ago, replacing many components.
These electric trains trains would provide 60% more seats than the current service, experts believe.
The use of these trains would mean electrifying the line - but not with the overhead power cables used elsewhere.
The power would come from a rail running alongside the track.
The rail would be mounted a couple of feet above the track and a "current collector" would run along it, feeding electricity to the trains' motors.
A similar system is already used in the south east of England, on the London Docklands railway and on a large part of Merseyside's commuter network.
And the plan would not prohibit other trains from using the same tracks, so diesel trains could substitute in an emergency and Harrogate's direct train to London could still operate.
This would mean the timetable between Leeds and Knaresborough could be boosted to every 15 minutes and between Knaresborough and York to every 30 minutes.
Chamber chief executive Brian Dunsby said: "The chamber's solution is a modern low-cost ground-level electrification system, similar to that used on the Docklands Light Railway.
"This should be more reliable and much simpler and quicker to install than the conventional overhead electrical systems used on the East Coast and West Coast mainlines.
"It would also be less technically challenging in the Bramhope tunnel.
"And it would be easier to install on the high-level viaducts along the route, including the Wharfedale and Crimple Valleys and the Knaresborough viaduct, where overhead cables would be an eyesore on what are now Grade 2 listed structures."
Related Internet Links
The BBC is not responsible for the content of external sites.