Archbishop Dr John Sentamu backs York fairness survey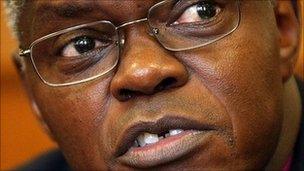 The Archbishop of York has said he is supporting a new organisation promoting fairness across the city.
Dr John Sentamu has said he will work with the Fairness Commission that will prepare a report examining poverty and social justice.
The archbishop said he wanted to ensure that nobody was unfairly disadvantaged because of spending cuts.
Some parts of the city, which is generally seen as affluent, are among the poorest in the country.
The Fairness Commission will prepare a report which will provide an insight for the City of York council on issues of fairness in preparation of its spending priorities review for 2012-2014.
The archbishop, who has consistently spoken out concerning poverty and matters of social justice, noted that in a recent Indices of Deprivation Survey, the City of York Council was ranked 244th in a table of 354 councils across England.
Dr Sentamu pointed out that eight parts of the city were ranked as being among the poorest 20% in the country, with one, Kings way West, remaining as one of the 10% of the most deprived areas nationally.
The archbishop said: "I know many people are afraid of what public service cuts may mean for them and their families.
"There are difficult choices to be made and real debates to be had about what is the best way forward.
"You can judge how healthy a society is by how it treats the poor and vulnerable.
"I am pleased to sponsor this independent commission which seeks to make expert recommendations based on need rather than political aspiration.
"We need to ensure that no-one is left behind.
Councillor James Alexander, the leader of the City of York Council, said: "York has a reputation for being an affluent city but some areas are amongst the most deprived in the country.
"The commission' s report to the council will provide an independent insight into York in 2011.
"It will show what residents' views are on key issues that affect their well-being, access to services and to work, and how we can best support them."
Related Internet Links
The BBC is not responsible for the content of external sites.