'Record' numbers of red grouse in northern England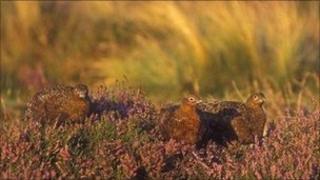 Red grouse numbers are at their highest level in northern England since accurate records began in the early 1980s.
The annual bird count, by the Game and Wildlife Conservation Trust (GWCT), takes place ahead of the beginning of the shooting season on 12 August.
The organisation said it estimated there were 1.25m grouse in England and Wales this year.
Grouse moor owners say shooting delivers £22m to Yorkshire's economy.
Dr David Baines, upland research director with the GWCT, said: "This has been a very good year for grouse particularly in northern England, possibly an all-time record."
The organisation estimated bird numbers had risen by almost a quarter compared with 2010.
He added that despite the long snowy winter, birds appeared to breed earlier and chicks seemed to grow faster.
'Any argument'
The Moorland Association, which represents moor owners, said about a third of revenue generated by grouse shooting was spent in Yorkshire.
Lord Masham, who owns 10,000 acres of grouse moor in the Yorkshire Dales, said: "Moor owners spend about £50m on maintaining the moors and an extra £15m is brought in over the shooting season in other associated businesses."
A day's shooting can cost £2,000 for each gun and the association said it also benefited rural businesses which supply accommodation, equipment and clothing.
George Thompson, who is head gamekeeper on the Spaunton estate on the North York Moors, said shooting was vital for the rural economy.
He said: "We're coming to the end of the school holidays and pubs, restaurants, bed and breakfast places, all go quiet for the winter. It is vital shooters come to the North York Moors and spend money in the uplands, contribute to the economy and leave some money behind."
However the chief executive of the League against Cruel Sports, Joe Duckworth, said the benefits of shooting to the rural economy was a "smokescreen."
Mr Duckworth said: "The shooting lobby will use any argument they can possibly find to gloss over the fact that their sport is about nothing more than killing for fun."