York 'Purpleman' performer attacked after Facebook plot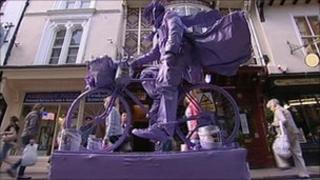 A popular York street performer has installed a video camera in his hat after he was dragged off his bike following a Facebook plot.
'Purpleman' was performing in the city on Saturday when he was attacked.
He believes the attack was linked to a page on Facebook - which has now been taken down - urging people to use riots as an excuse to push him off his bike.
North Yorkshire Police said a 34-year-old man from West Yorkshire had been arrested and released on bail.
The street performer sits stationary on his purple bike in Stonegate, in the city centre, for hours a day.
He said: "The Facebook page was created and was live last week.
"After that page appeared I was receiving threats on the street from people wanting to push me off the bike as the Facebook page incited people to do. And then this actually happened."
The entertainer said Saturday's incident was the first time in 10 years he had felt threatened.
He has now installed a CCTV camera inside his helmet for personal protection which he says can be switched on in two seconds, and is considering taking legal action against whoever created the Facebook page.