North Yorkshire Police chief's £200k 'not a payoff'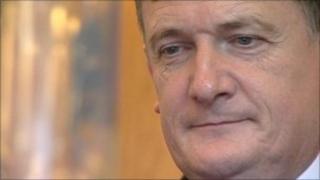 An expected £200,000 payment to North Yorkshire Police's outgoing chief constable is not a "payoff", the police authority has said.
Grahame Maxwell will leave the force in May 2012 after his request to renew his fixed-term appointment was rejected by the authority.
He admitted gross misconduct in helping a relative during a recruitment drive.
North Yorkshire Police Authority said the payment was required under police regulations.
Home Office regulations require senior officers to be compensated if they are unable to complete 30 years' pensionable service.
Mr Maxwell would only complete that period if he stayed in the force until 2013.
The payment, expected to be around £200,000, would be due after his departure unless he obtained another job within the police service.
'Unfair advantage'
Jane Kenyon, chairman of the North Yorkshire Police Authority, said the payment should not be viewed as a "payoff".
Miss Kenyon added: "I can assure everybody that any chief constable, when they leave the force, will be given only that sum of money which regulations dictate.
"The police authority has worked within the regulations not outside them."
An investigation found that Mr Maxwell helped a relative gain unfair advantage in a police recruitment drive for 60 jobs in 2010.
He also admitted assisting a member of his extended family and a relative of his deputy, Adam Briggs. Mr Briggs has since retired.
The inquiry into the misconduct claims cost taxpayers more than £300,000.