York to offer free city-centre wi-fi access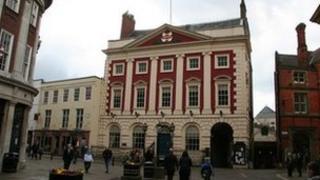 Free public wi-fi could be extended across York if a new trial proves successful.
The wireless internet connection is available in St Helen's Square and Coney Street.
It uses the council's existing network and if it proves popular the council plans to extend coverage across the city.
The council said the costs of the trial, about £30,000, had come from existing budgets.
James Alexander, leader of the Labour-controlled City of York Council, said: "Internet access is now an essential part of our everyday working and private lives.
"Some cities on the continent provide free wi-fi access but very few do in the UK.
"We hope that the initial trial will be successful and provide a real boost to local businesses, visitors and shoppers."
Wireless access points have been located along Coney Street and in St Helens Square providing access for anyone with a laptop, smart phone or other internet-enabled device.
There is no cut-off point for the trial, which provides the same level of access as that at York library.