Drax biomass plans 'threatened' by subsidy levels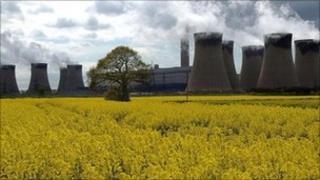 The operator of the UK's largest coal-fired power plant says plans for new biomass plants are "in doubt" due to proposed government subsidy levels.
Drax wants to build two new plants, which would burn organic produce, in North Yorkshire and North Lincolnshire.
In a management statement, Drax said the investment case for the £2bn plan was "highly challenging".
A consultation on state aid for renewable energy ends in January 2012.
The go-ahead for the new biomass plants at Drax near Selby, North Yorkshire, and at South Killingholme, near Immingham, North Lincolnshire, was given by energy minister Charles Hendry in August.
The company's interim management statement for November said it was "disappointed" with the proposed level of subsidy for biomass, which is lower than state aid for other renewables such as wind.
The statement added: "This makes the investment case for our planned dedicated biomass developments highly challenging."
Drax said it would continue to play a "full part" in the consultation.