Askham Bryan College takes on hairy armadillos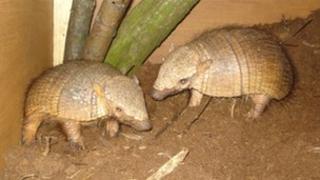 A pair of hairy armadillos have arrived at a college in North Yorkshire.
The animals are the only breeding pair that can be seen in public outside of London Zoo.
Students at Askham Bryan College's Animal Management department will study the animals' diet and behaviour as part of their courses.
The new armadillos are both two years old and staff at the college have described them both as "extremely friendly".
The college already has a number of more unusual animals at its campus near York, including marmosets, meerkats, skunks and racoons.
Rob Wilson, instructor-technician at the college, said: "We are very excited about their arrival and this rare opportunity for people to see them."
Members of the public will be able to see the animals for the first time on 4 December.