York's chocolate attraction name is announced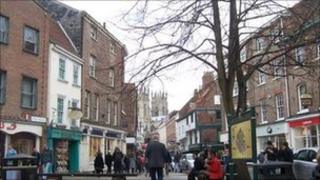 The name of a new chocolate-themed visitor attraction in York has been confirmed as Chocolate - York's Sweet Story.
Construction work on the £2m attraction began in Autumn 2011 and is due to be completed in early 2012.
The attraction will tell the story of the city's long-standing links to confectionery manufacturing.
York has been associated with the production of confectionary for more than 200 years.
The attraction, in King's Square, is being developed by local heritage company the Continuum Group.
Juliana Delaney, Continuum's chief executive, said: "The name has been designed to encapsulate the taste and flavour of York's sweet stories, stand the test of time just like some of York's famous confectionery giants and make people smile.
"We know that the word chocolate strikes a chord with people of all ages and nationalities and it's at the heart of York's confectionery manufacturing industry."
York was home to two of the biggest British names in chocolate, Rowntree Mackintosh and Terry's.
Swiss confectionery firm Nestle, which acquired Rowntree in the 1980s, still has a major manufacturing facility in the city.