Flying Scotsman refurbishment delay investigated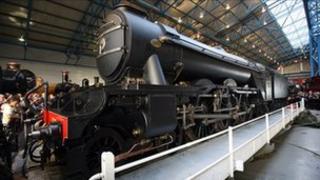 An investigation is under way into delays in refurbishing the locomotive, the Flying Scotsman, at the National Railway Museum in York.
The museum bought the engine for £2m in 2004 and said a number of technical problems had resulted in the delays.
The locomotive was expected to be running within weeks of a public unveiling in May.
Steve Davies, from the museum, said engineers had "discovered some cracks and as we dug deeper, found more".
Since the engine was purchased, more than £2.6m has been spent on renovating the machine.
'People's engine'
Mr Davies added: "We have launched an internal investigation, not just into the project management but also the whole of the engineering bit.
"We are extremely close to seeing Flying Scotsman steaming once again."
A number of sources have donated money towards the restoration of the Flying Scotsman, including Tata Steel, the Heritage Lottery Fund and members of the public.
Robin Jones, editor of Heritage Railway Magazine, said he was astonished by the over-running project saying: "Old age pensioners gave money.
"Schoolboys gave their pocket money.
"This really was the people's engine and yet this locomotive was stripped down, taken apart piece by piece, the most thorough overhaul and these defects weren't noticed for years."
The museum said it expected the restoration work to be completed before spring 2012.