'Mouseman' furniture stolen in North Yorkshire church thefts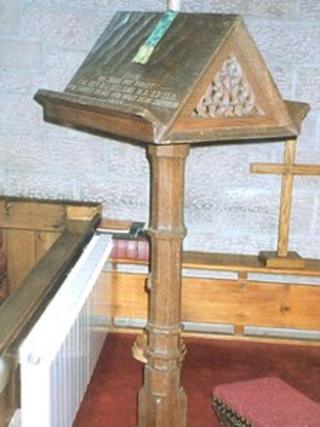 Thieves targeting rural churches in North Yorkshire have stolen valuable carved furniture worth thousands of pounds, police have said.
Items by renowned 20th Century Yorkshire wood carver Robert Thompson, or "Mouseman", were among furniture stolen between October and December.
Churches in Sicklinghall, Arncliffe, Kirkby Overblow and Appletreewick had been targeted, police said.
An oak bishop's chair and bible stand were among the items taken by thieves.
'Callous and heartless'
In the first theft, an octagonal oak Mouseman table, bearing an inscription and worth about £600, was stolen from All Saints Church, Kirkby Overblow, between 16 October and 28 October.
Police said the second theft occurred on Wednesday 9 November at the Church of Immaculate Conception, Sicklinghall, where thieves took a Mouseman wooden table worth between £2,500 and £3,000.
Thieves struck again between 20 November and 26 November at Burnsall and Appletreewick Parochial Church, Appletreewick, where a Mouseman bishop's chair worth about £2,000 was stolen.
Police said the heavy oak chair would have needed two people to lift it.
Two more carved oak chairs worth about £800 were taken from St Oswald's Church, Arncliffe, between 30 November and 4 December.
An antique pike staff was also stolen from St Oswald's, police said.
On 2 December, thieves stole a carved Mouseman bible stand from St Peter's Church, Sicklinghall.
PC Claire Brown, from North Yorkshire Police, described the thefts as "pretty callous and heartless".
She appealed for antique dealers and second-hand shop owners to contact police if they were offered any of the stolen items.