Scarborough council delays sea defences plan decision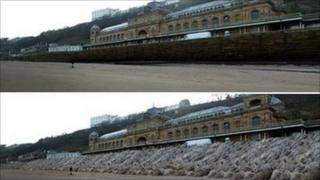 A decision over plans for new sea defences in Scarborough has been delayed until next year.
Officers had drawn up six options to protect the South Bay and Spa entertainment complex.
They favoured the creation of a rock revetment and wave wall constructed 1.1m (3ft 7in) above walkway level.
Councillors have asked officials for more details of two of the six options which they say they will now consider in February 2012.
The Conservative-run council said the current sea wall was not sufficient and posed a "serious risk" to public safety.
Weakening defences, the council fears, could prompt a major landslide and destroy the Victorian Spa.
Councillor Andrew Backhouse, the cabinet's portfolio holder for coastal and flood defences, said they "owed" it to future generations to consider carefully the impact of any scheme.
He said: "We have asked officers to come back to us with a more detailed report including indicative costs for their preferred option and for what is referred to as option six."
The options offered by officials included doing nothing, doing minimal repairs to the sea wall or building wave walls 0.6m (1ft 11in) or 1.4m (4ft 7in) above walkway level.
Option six would not use rock armour but would instead be a concrete stepped revetment with a 1.4m (4ft 7in) wave wall.