North Yorkshire potash mine plan: Visual impact vital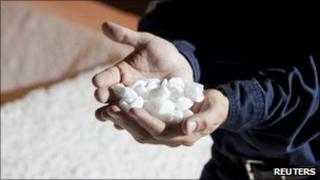 The visual impact of a new potash mine in North Yorkshire could be a deciding factor for planners.
Sirius Minerals Ltd said an application for the mine in the North York Moors National Park could be made in 2012.
The company said it would work hard to reduce the visual impact of the mine on the landscape of the national park.
The North York Moors National Park Authority said the company would face an "uphill battle" to gain permission.
Potash is a potassium compound used in fertilisers. The UK's only mine is at Boulby in North Yorkshire.
'5,000 jobs'
Sirius Minerals began test drilling at a number of sites between Whitby and Scarborough in 2011.
Chris Fraser, chief executive of Sirius Minerals, said they recognised the importance of finding the right location for any minehead.
"We are trying to minimise the negatives about the project and the negative is really going to come down to the visual impact of the mine."
Policies relating to large-scale developments in national parks start with a presumption of refusal.
Chris France, director of planning at the North York Moors National Park Authority, said the company had many hurdles to overcome.
He said: "There has to be a proven national need for the development, they have to also demonstrate there is no alternative but to develop in the National Park, and, even if they do that, they still have to show how they can reduce the major impact it would have on the landscape."
Sirius Minerals said the multimillion-pound project could create 5,000 jobs and supply all the UK's potash needs for the next 50 years.