Sutton Bank body: Families claim link to mystery woman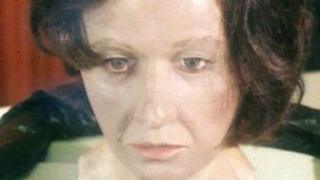 Two families have said they could be related to a woman whose identity has remained a mystery since she was found in a shallow grave in 1981.
Police found the body at Sutton Bank, North Yorkshire, after a tip-off, but she may have died two years before.
She was later buried in an unmarked grave in Malton and her body is due to be exhumed for DNA samples to be taken.
Police will compare DNA from the woman and members of the families who have come forward.
Despite an 18-month investigation launched in 1981, and appeals for information since then, the identity of the woman has never been established.
'Powerful tool'
A wax impression of a woman's head was created using the body's skull to help identify the victim, but no information was received.
Det Supt Lewis Raw, leading North Yorkshire Police's specialist and major crime unit, said DNA was a "powerful tool" in trying to establish the woman's identity.
"The original investigation team did not have the benefit of DNA. Without doubt it's the key to the inquiry as to who this individual is," he said.
"A couple of families have come forward and we have kept them updated on the progress of the investigation.
"It's obviously something we can use to put their concerns to rest."